Hey guys!
It's time to share all my thoughts and feelings on the third part of Sarah J. Maas' A Court of Thorns and Roses series. As before my thoughts on A Court of Wings and Ruin will contain many many spoilers and be extensive.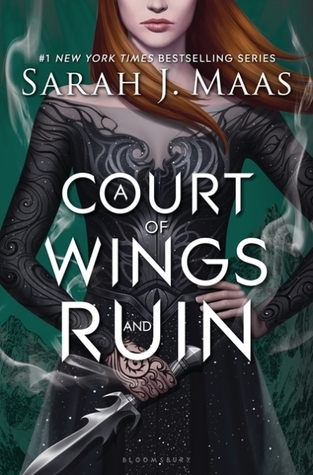 The Plot:
Feyre is back at the Spring Court. However, now she is a double agent and Tamlin is about to get what he deserves. Hybern is preparing for war, but so is all of Prythian…
The Rating:
I can't remember the last time I've been crying so hard.
Sarah J. Maas managed to rip my heart out with this one. I don't even know what to do with all my feelings.
To be honest, I can't remember any book ever affecting me this much. I finished A Court of Wings and Ruin in one sitting and was torn between reading more and getting closer to the end. I didn't want this to be over, didn't want to leave all those characters behind.
Not just the characters we already fell for. Like Rhysand who is just about perfect in every way. Or Feyre who is intense and relatable. Or Azriel, Cassian, Mor and Amren who deep are so much more than they seem at first glance. We get Feyre's sisters who are now also High Fae and we already know that Nesta is more than a handful. But also Elain, sweet Elain who always ways nothing but good. ACOWAR also marks the return of Lucien who appears to be a more complicated character than we knew until now.
I was also excited to learn a bit more about the other High Lords and their respective territories. I hope Sarah J. Maas will write some more books that allow us to explore all their courts!
But this damned war with Hybern. It pisses me off so much that it keeps all those adorable characters from their happy end that could rip off the king's head myself. I honestly dreaded the outcome of the final battle, not knowing who would make it through. I've always been a fast reader, but I'm certain ever never read this fast, with tears in my eyes the entire time, to get to the end, to find out whether they would all survive.
With A Court of Wings and Ruin Sarah J. Maas completely wrecked me. So, before even wiping away the tears in my eyes, I picked up A Court of Frost and Starlight. I am not ready to part with Feysand yet.
Did you read the book? Let me know in the comments what you think!
Follow me on Facebook, Twitter, Bloglovin', Tumblr, Goodreads, Letterboxd or Instagram!