Hello, my lovely readers!
I recently dived into the ACOTAR series by Sarah J. Maas after having heard so many great things about it.
While I usually tried to keep my reviews spoiler-free, there's no way to do it with this series. So if you haven't read it yet, you might want to leave right now.
Also, apologies in advance – the reviews for this series might turn out a bit longer than usual for me…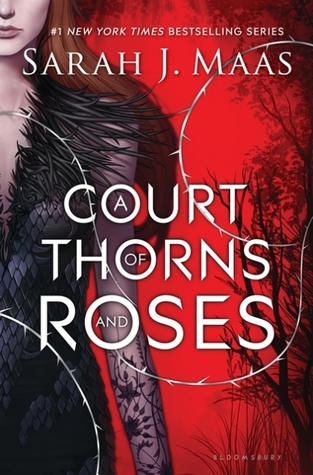 The Plot:
Feyre is responsible for her family's survival. That's why she's out that day hunting. But when she shoots a wolf that's far bigger than it should be, Feyre gets sucked into a world of faeries and magic. A world that has problems of its own. Huge problems…
The Rating:
As I mentioned before, I had heard lots of praise for these books, so I added them to my reading list. To be honest, I didn't really know what the story is about, so I began A Court of Thorns and Roses ready to be surprised.
However, I didn't end that well. First of all, I wasn't too impressed by the main character, Feyre. I think the main problem is that she's just too much like the blueprint of your typical YA heroine. She's strong, she can fight, she has some serious issues. Despite not really realizing it herself she is beautiful. That description applies to all the women in The Hunger Games, The Lunar Chronicles, and the Divergent series. To be honest, I think if I hadn't read all those books before this one, I would have enjoyed ACOTAR far more. This way I constantly kept comparing and seeing similarities.
But wait a second. There are more issues I have with this book.
After Feyre kills that wolf, we learn that it was actually a High Fae and she is dragged to the realm of Prythian. There she is to live out the rest of her days in the grand mansion of a very good-looking Lord. We later find out that in order to break a curse he has to make her fall in love with him.
Does this sound like a copy of The Beauty and Beast to anybody else but me?
I might have been okay with a re-telling of that story, hadn't Tamlin (the good-looking Lord) annoyed the shit out of me. Obviously just about his only asset is that he looks hot. At least it's the only thing Feyre keeps wondering about. His attempts to make her fall in love had me rolling my eyes so many times, I actually was tempted to put down the book. I know many people out there were rooting for him and Feyre as a couple. But after finishing the book I kept wondering how long it took for him to actually care about her. Let's be honest, at least at first, he was only courting her because of the curse and not because he actually loved her. I don't at which point that changed by it seriously unnerved me. Apart from the fact that Feyre falling in love with him is a classic Stockholm syndrome.
Anyway. As the story progresses, Feyre finds herself under the mountain. I was completely flabbergasted that she couldn't solve the riddle! All she kept talking and thinking about was her love for Tamlin, yet she couldn't figure out that the (very obvious answer) is love? Come on girl, get your shit together.
Apart from that, I thought she passed the second trial somewhat too easily. It was over before it began and I simply couldn't believe Amarantha would sit by that calmly.
But something Under The Mountain sparked my curiosity. Rhysand, High Lord of the Night Court, is the most interesting character for me so far. I can't help but like him, he just doesn't feel as evil as he is pictured to be.
In fact, the only reason why I will read the next book is that I desperately want to know what his court looks like!
I know many YA adult fans out there will hate me now, but ACOTAR didn't really impress me. However, it managed to do one thing: it made me curious. So stay tuned for the reviews on the next installments. I promise those are more favorable 😉
Did you read the book? Let me know in the comments what you think!
Follow me on Facebook, Twitter, Bloglovin', Tumblr, Goodreads, Letterboxd or Instagram!